Efficient and Reliable COVID Screening
Los Angeles and the Inland Empire Areas
Throughout the year of 2021, businesses, specifically in the entertainment industry, have been adapting their ways to make themselves a safe AND productive place. From employee and onsite staff temperature checks, sanitization, PCR testing, rapid testing, record keeping and more, we care for the medical and compliance part of your project so you can allow your team to focus on their art. We're up to speed on the most current state and CDC guidelines and work with RN's, EMT's, and medical assistants to keep your team safe. We designed our COVID compliance program to accommodate different environments. Just speak to one of our team members about your project and we'll help craft a program that works best, keeps the project safe and is as un-invasive as possible.
What is a COVID Compliance Officer?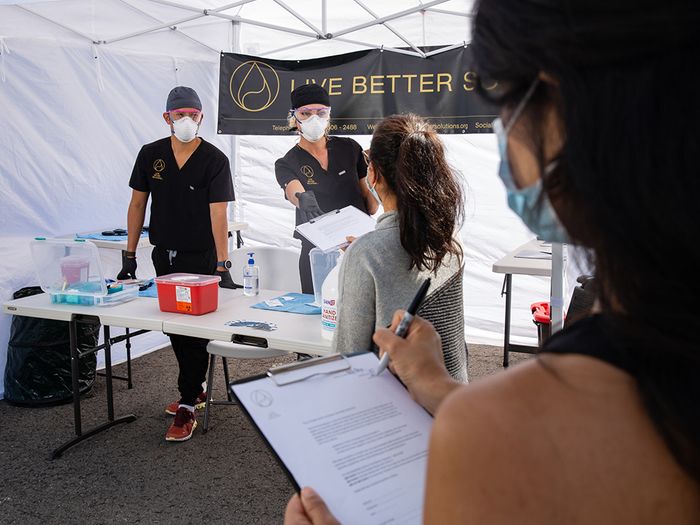 A COVID Compliance Officer helps to remove the confusion and uncertainty about how to operate a project in the safest manner and to comply with the state's requirements. Every project is a blend of California requirements, CDC guidelines and the preferences of the project manager and director. We work with:
Recording Studios

Commercial Video Sets

Content Creator Sites

Production Shoots

Photography Locations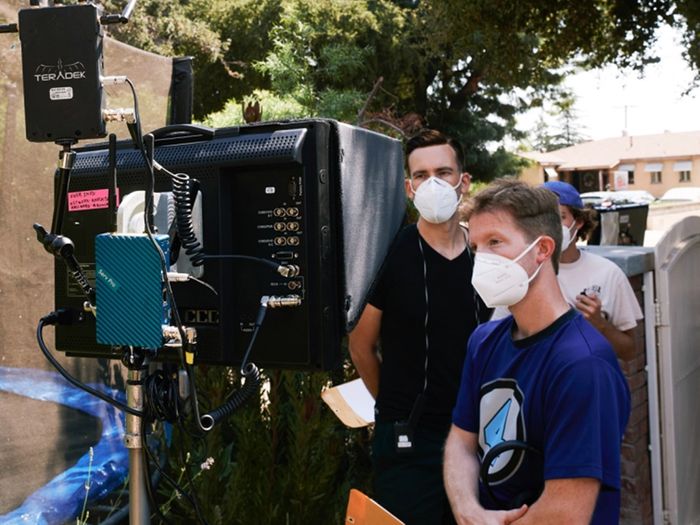 Responsibilities include:
Temperature checks and COVID screening on arrival to the site

Providing spare masks, gloves, hand sanitizer

Assistance in setting up eating and other common areas

On site education and reminders, usually done at the beginning of the work day

Regular rounds throughout the day to verify compliance - we want you to focus on your project and we'll focus on COVID

Records of who was tested, what kind of test was performed and when they were tested

Daily logs of all screenings performed for the project manager's records
We take safety seriously. After seeing the scope of the project and establishing the guidelines with the project manager, if we see something, we'll politely and firmly speak up to the crew so you don't have to.Once your event or project is completed, we will provide records of the testing and screenings to show that you've done your part. Not only does this protect your staff but it also allows you to work, knowing confidently that you're adhering to all rules and regulations and have the proof to show it, should something happen.
Reach out to us, and a project coordinator will be assigned to your event and help work out the logistics with you.
Pick Your Location
We are currently offering our COVID Compliance Officer Products to locations around Los Angeles and Inland Empire. Please connect with the location closest to you, if you need help deciding, give us a call and we can work with you one-on-one!
Locations:
9591 Foothill Boulevard Rancho Cucamonga, CA 91730
Call Us Now
Hours Of Operation:
Rancho Cucamonga
Monday - Friday 7:00am-6:00pm
Saturday 7:00am- 3:00pm
Location:
830 N Tustin St Orange CA 92867
Call Us Now
Hours Of Operation
Monday - Friday 9:00am-6:00pm
Saturday 9:00am-3:00pm
Location:
1730 Sepulveda BLVD #2 Torrance
CA, 90501
Call Us Now
Hours Of Operation
Monday - Friday 8am-8pm
Saturday 8am-8pm
Sunday 8am-8pm
Complete COVID-19 Testing Center is ready to help the entertainment industry get back on its feet. Schedule your next project with us and rest assured that your project site will be safe for everyone there. Our staff does all the work, allowing you to focus on your project.
With locations all across Southern California, we're here to help protect you from the spread of COVID-19. Learn more information about testing sites, results, and turn around times by visiting our FAQ's Page or contact us directly and we'd be happy to discuss any questions you may have.
Get your next project in the works with our COVID Compliance Officer , connect with us today and find what package will work best for you!